Gamification stuff we love: Call centre gamification with Playlyfe
Our business partner and gamification platform provider Playlyfe has been working hard in the background to design some ready made solutions. One of the solutions is targeted at call centres and offering a sense of self-management to the employee by providing feedback on their performance. By linking dashboard to internal systems that track compliance, time, call completion, learning etc the agent is able to see how he or she is doing in real time.
Call centre clients can customise what they want to show in the dashboard and apply only relevant metrics to their way of working. The metrics can be set to count a whole month and lead to a top performer of the month or accumulative and rolling forward or both, to allow rewarding a great performance as well as consistency. Agents can take knowledge quizzes to level up, which when completed are sent for review and the manager then either approves or suggests a re-take with potentially some learning recommendations as well. The number of levels can be set by the call centre. Badges can be themed according to company branding as well as in application messaging for positive results as well as failure.
As a standard the solution comes with an inbuilt community element, where employees can share good working practises and manager can also contribute to potential employee questions. Managers have an overview dashboard for their team and can make changes to reflect business unit goals or personal development plans of individual team members.
The leaderboard is also built in as standard and can be switched on. Further statistics on how someone is performing compared to average on important company metrics, can once again encourage self-correction and sticking to the best possible practise to achieve individual and company goals.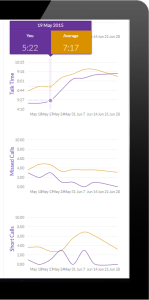 The company can even go as far as checking whether an agent is using the tools at home or only during working hours. For on of their clients this is important because they manage a virtual workforce working from home and the company actively wants to promote a healthy work life balance.
I have to say I really liked the application, which can be integrated on a company platform or sit on a webpage or live inside an app. Having worked in call centres as a student, it was always hard to tell how you were doing and whether you were on target. Usually you found out at the end of the year during your performance review or when something had gone drastically wrong along the way.
If you would like to find out more about this solution, by all means connect with us, we can share the demo and give you further information.
What else would you like to see in your call centre gamification app?