The future of work is human, augmented by game-like technology
The company is led by An Coppens, revered gamification expert and award-winning speaker with over 20 years' experience in creating behavioural change through games and play.
Using the latest research in neuroscience, UX/UI , behavioural economics, psychology and motivational design, we are creative and innovative when it comes to games and gamification design.

We cover all aspects of the employee lifecycle including employer branding, recruitment, on-boarding, training, productivity and career progression. Our expertise encompasses anything that intends to:
Attract, motivate, engage, inspire.
Promote collaboration and loyalty.
Even a bit of competition when it is appropriate.
Win/win for all involved.
We work with all types of businesses and industries, from SMEs to FTSE 500 companies across the UK, Europe, the US and Asia.
Our Promises:
Inclusive by design
We want every employee to feel like they belong when they play our games.
Collaborative
To involve our clients in all stages of development.
Human-centered
We always start with the user's experience.
Creative
Bringing new ideas and concepts to life.
Game-like
Enabling learning through play, within a safe environment.
Gender-balanced
A female led and founded aiming for 50/50 gender split.
"Gamification Nation stands for getting you results, providing a quality solution, and above all, having fun in the process!" An Coppens
We have a number of solutions available to suit your needs including ready to deploy 'pay and play' apps, the gamification of your existing process or serious games design which involves creating a new digital or physical game.

If you want to remember one thing about us, it's that we are 'inclusive by design', we want everybody to feel like they belong when they play our games and engage in our gamified processes. We actively support the Global Goals of gender equality and aim to reduce inequality whenever put together a gamification strategy.
FINALIST TIGA
GAMES AWARDS 2019
2018 WINNER | EXCELLENCE
IN NO-TECH GAMIFICATION DESIGN
2017 WINNER OUTSTANDING
GAMIFICATION AGENCY AWARD
AN COPPPENS
RECOGNISED HRD VISIONARY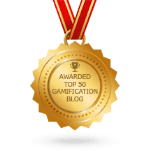 TOP GAMIFICATION BLOG
SHORTLISTED TIGA
EDUCATIONAL GAMES CATEGORY
Our Solutions
Pay & Play
Apps & Games
A digital solution for
every stage of the employee lifecycle.
Gamification Strategy & Design
Add incentives and playful aspects to your existing processes.
Serious Game
Design
Create a new game from scratch, in digital or physical form.
"Instrumental in helping."
We've been working with An (and the Gamification Nation team) for the past year and it has been a total pleasure to have her on the 5App team. An provides a refreshingly different perspective to our strategy work, adding value throughout the lifetime of the project. Her ideas and innovative approaches have informed and challenged our thinking in all the right ways.

Gill Frood, Head of Marketing, 5app.com
"Shaped our thinking about gamification"
"Your insights and expertise helped shaped our thinking about the most appropriate use of gamification in education. "

Joshua Davidson, Creator and CEO of NightZookeeper