The problems we solve can be grouped into 3 main categories:
We work with
We work with companies large and small as long as they have innovation, games and collaboration in their values. We have worked with:
Corporate clients in a variety of industries such as insurance, pharmaceutical, banking, technology
Public sector organisations such as defense, cities, councils
App and software owners looking to engage their users more
We work with all types of businesses and industries, from SMEs to FTSE 500 companies across the UK, Europe, the US and Asia.
Attract & recruit new employees and clients
Attract the right people for your company through to help them shine as clients and thrive as employees. All businesses know the right people help you get results and save you time and make you money. We create games to help select the best fitting or most targeted audience for you. We gamify the pre-hire, recruitment and onboarding experiences to attract and retain the best talent.
Retain and set your employees and clients up for success
Retention starts at the very beginning with great onboarding and finding out what people want from working with you. It is then your job to help them achieve their success, we help you identify what they want with games, quizzes, gamified onboarding processes.
Motivate & inspire your employees and clients
Motivation starts with understanding your people, we create quizzes and games to help people realise their strengths and winning behaviours. Motivation is most often about majoring in the small steps that make a big difference from celebrating achievement to timely feedback and insightful moments of reflection. You can achieve that with games, gamification and engaging work spaces.
FINALIST TIGA
GAMES AWARDS 2019
2018 WINNER | EXCELLENCE
IN NO-TECH GAMIFICATION DESIGN
2017 WINNER OUTSTANDING
GAMIFICATION AGENCY AWARD
AN COPPPENS
RECOGNISED HRD VISIONARY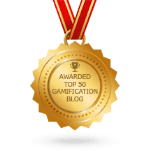 TOP GAMIFICATION BLOG
SHORTLISTED TIGA
EDUCATIONAL GAMES CATEGORY