Next week I will be speaking about gamification in the insurance industry, and to prepare for it I was looking up some examples.  I came across this fun attempt by Aviva insurance, where a whole family is challenged to see who is the best driver. In most families, this would cause some competition and banter, just like it did for the family in the video clip. Everyone thinks they are a great driver and definitely better than granddad or an aunt or uncle or sibling.
When you download the Aviva Drive app and use it for 200 miles, it will give you a score out of 10 with 10 being the safest driver. This score then entitles you to get money off your car insurance. You will also receive feedback in the shape of a star rating for your driving technique around accelerating, cornering and braking. Distance badges are also unlocked over time. The discount is personalised and calculated based on the individuals driving behaviour
It is a fun way of using gamification for a very real and personalised reward, namely money off your insurance. The feedback on your driving in a personalised way can also raise awareness on how you could improve. The added dynamic of competition amongst family or friends taps into a natural behaviour that happens in these settings in any case and it probably adds a bit of fuel to the conversation. I wonder if you had no reward, would the fun of knowing be enough too?
Would you take the challenge if you could save money and put the question of who is the best driver in your family to bed?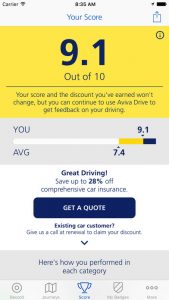 SaveSave
SaveSave