What gamification solution suits you?
Confusion around the possibilities and impact of gamification are still widespread. So you are not alone in finding picking the right solution for your business and your specific scenario can be a challenge…
Select the options that describe you best and we can assist you from there…
Unsure what to do…
If you are really unsure whether your project or idea will fly with gamification, the best thing to do is to book a gamification strategy call. It is a paid for 90-minute long consultation on your specific project or application to scope out if gamification is indeed the solution that will help you most. Each strategy call is with An Coppens, our founder, who has a wealth of knowledge from projects and research in the field.
Knowledgeable and I reckon gamification may be the answer
If you already have done some research, read up on the topic or maybe even taken a course on gamification, then the first decision point is what area of business does it apply to:
Customers
Employees
Learners (we know learners can be employees, but we have a lot of cool solutions for this so we keep them separate)
Maybe you are really sure that gamification is the answer and you just want platform selection advice or simply take the next step in the process to go ahead with your project, in the latter case we advise you to complete our solution scoping questions and we will schedule a call to get started once we receive it.
I am looking for an out-of-the-box solution
If the above options are not quite what you are after then, maybe you can have a look at our out-of-box solutions and pre-packaged services, which our clients have bought regularly. If you want anything tailored and suited to your business, then these are not the best options.
I am a DIY expert and just want tools
If you are of a Do-It-Yourself mindset, you may find useful items in this offering to fulfil what you are after. The options below are tools we have developed, use ourselves and are affiliated with or resellers for.
I just want a game
How we work with you
We've made it really simple for you.
You can start at any level, even a simple campaign, but to realize the true benefits of gamification in the long term, you'll need that proven strategy.
That's why we always insist on working with your decision makers at the highest levels, in order to make it fit your bigger strategic agenda.
There's no need to overturn everything, or anything really. This is a hands-on process that boosts your business goals, whatever they may be.
We specialise in Gamification Design services, which means we assist our clients in formulating a thoroughly effective gamification strategy
Our process is as follows: 
1. Define your most important business goals, to make sure we can measure them getting achieved throughout the gamification process.

2. Zone in on your target audience, what do they naturally do already, how can you encourage them with positive and intrinsic motivation factors, how this translates into your gamification design

3. Create a meaningful experience. We identify the epic meaning and the look and feel of the experience, should it be mysterious, adventurous, or tying in with other brand values you may already be working with.

4. Delve into the game mechanic toolkit and see which of these would work with your audience, your goal and the experience you want to create.

5. Test your game design with a pilot group, adapting the design based on the feedback we get, until we're all happy with the results and go live to your designated group.
We've gone through a lot of effort to make this process as smooth as possible because we know from experience getting your Gamification Design right first is absolutely critical.
Gamification works when Gamification Design is well thought out. You can clearly see this when you look through sample implementations.
Only after step 4 in our process, we'd even consider going shopping around for platform vendors. In short, we do NOT recommend going technology first without a working design.
We want you to be confident by having a solid strategy first so that when it comes to selecting vendors you have a strong vision and can be very clear on what you need and want.
This Design First approach will save you a LOT of money.
We've seen it happen time and again.

Our credentials
Outstanding Gamification Agency Award
We are delighted to say that our peers in the gamification industry voted for us to be the "Outstanding Gamification Agency" of 2017. The award was presented at the first Gamification Europe conference in Brighton held on 28-29th November 2017.
It is thanks to our team of collaborators, business partners and our clients, that we could make this award happen. As the owner and founder of the business, I have to say I am really grateful for the recognition and to have our years of hard work pay off.
Shortlisted in TIGA Educational Games category
In October 2017, we saw our gamification design for our client Qinetiq xCite, in the shortlist of finalists of the educational game category for the TIGA Game Awards. To be included in the list of finalists was a great honour amongst some great names like Sony and EA. Our project stood out in our category, because it was adult focused education where all the other entries looked more focused on children.
Top Gamification blog
Feedspot judged us to be the number 1 gamification blog worldwide in 2017.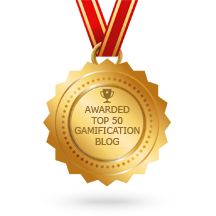 An Coppens is recognised HRD Visionary
At the world HRD Conference in Mumbai in February 2016, An Coppens was recognised as a HRD visionary. With the majority of our work in the training and development space, An was delighted to receive the honours.
Our clients
SaveSave
SaveSave
SaveSave
SaveSave
SaveSave